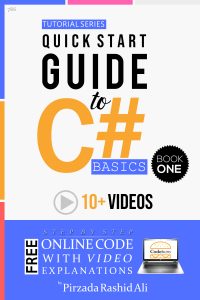 "Quick Start Guide to C# Basics" will teach you all about C# programming and provide you with enough knowledge to start coding immediately.
This eBook is for anyone who wants to learn the C# programming language. No prior knowledge of C# is required, but some general programming experience is necessary. All the information you'll need to learn some of the basic, yet very powerful parts of the C# program is provided. It is important to know all the topics when writing out your code, so difficult concepts have been broken down into simple steps to ensure that you can easily understand the language, even if you have little programming knowledge with no hands-on coding experience.
What's Inside
Detailed Explanation of Topics
Images
Code Examples
Free 10 High-Quality Video Links (Bonus)
The best way to learn is by doing. At the end of each topic, you will find the link to test the code examples in an online editor and see the results instantly without writing a single word. You can then edit the code according to your needs and test it again. Most of the topics also contain video links to reduce your learning curve, keep you engaged, give you that extra push where you're uncertain and help you retain the knowledge. With step-by-step explanations, you'll master the basics of C# in no time.
Note: All topics covered in this eBook are comprehensive and do not require any video training; however, videos have been recorded to supplement your learning.
A console application will be used to execute the code examples. This is the simplest application to start with and once you understand the code, you can easily apply it to another C# application. You can write your code with any editor, but you'll be much more productive with online code editors for instantly testing code snippets.